United States Postal Service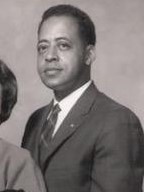 A U.S. Postal Service worker that claimed he and his wife Betty were abducted by extraterrestrials in 1961.
Barney Hill was born in the Jim Crow south in 1922. He served in the United States Army during World War II, and later earned a degree in social work from the University of New Hampshire. After the getting his degree he worked for the United States Postal Service and served as a community welfare worker. He married Eunice Elizabeth Barrett (Betty Hill) on May 12, 1960 in Portsmouth, New Hampshire.
On September 19, 1961, Barney and his wife Betty were driving home from a vacation, through the rural White Mountains of New Hampshire, when they claimed they witnessed a strange craft in the sky. They claimed the object followed them, and they got out of the car to investigate what it was. After allegedly noticing ET beings in the craft, they got back in the car and tried to escape. Barney claimed that he has weird marks on his body the next day, and Betty had horrible nightmares. They underwent hypnotic therapy over many months and began to recall details of their abduction.
The Hill case became a sensation in the media and in UFO circles, and the couple's story has been the subject of numerous books, films, and documentaries. Barney Hill passed away on February 25, 1969, at the age of 46, from a cerebral hemorrhage. His legacy remains a controversial and significant part of the history of UFO sightings and alien abduction claims.