U.S. Air Force & NASA Public Relations Officer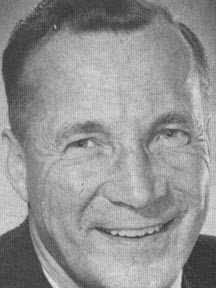 A direct participant of the July 1952 Washington DC incident, who after this incident was convinced that UFOs were "probably from another planet."
Albert M. Chop was a public relations officer in the aerospace industry and a founding member of NASA's public relations office who served as Deputy Public Relations Director. Under Chop's leadership, cartoon character Snoopy became a symbol for NASA safety, with artist Charles Schulz drawing posters for NASA.
Chop was also the U.S. Air Force's spokesman for Project Blue Book, which was the Air Force's official investigation of UFOs. Chop helped to develop the Air Force's policy on UFOs and he was responsible for briefing the media on UFO sightings. He was also a UFO witness, as he was in the air traffic control room during the July 26, 1952 UFO sighting over Washington, D.C., saw the returns on radar, and spoke with the pilot witnesses directly during the event. In 1956, Chop was the main subject of the feature-length motion picture titled, "Unidentified Flying Objects: The True Story of Flying Saucers", which highlight several major alleged UFO incidents, including the 1952 Washington, D.C. sightings.