1997 Mexico City UFO
Video
August 1997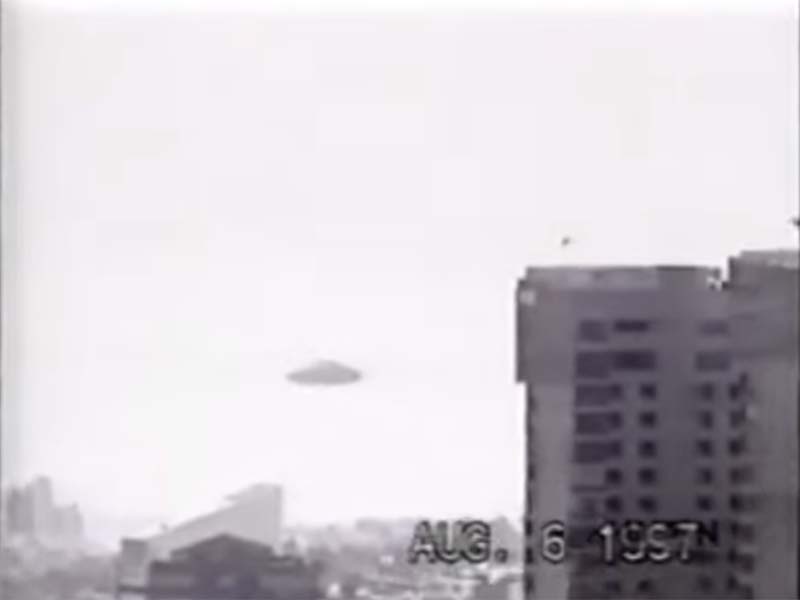 This famous video from 1997 depicts a saucer-shaped object hovering and wobbling over Mexico City. Also known as "El OVNI de las lomas," there is disagreement as to whether this is a hoax.
Delivered to Jaime Maussan's office at Televisa, this video attracted much attention and scrutiny when it was made public. In the video below, Maussan claims to have interviewed twelve witnesses, who made a variety of claims.
One witness named Cassandra stated that she thought it was spinning, and that it had windows. Another one named Annie Lask claimed to have witnessed it in the neighborhood of Bosque de las Lomas. She said it hovered over her house, and that she climbed up on her roof to watch it. She then claimed that by the time she tried to take a photo, it disappeared and left a purple mist. She said that her eyes burned, and that she couldn't remember getting off her roof.
In an interview in the same video, David Froning, a propulsion engineer with a 30 year career at McDonnell Douglas, said, "I think it's an intelligently controlled craft," and that it appeared to be propelled by what he called "field propulsion."
Special effects supervisors at Digital Domain were also interviewed in this video, and were divided in their assessment as to its veracity. Both agreed that the imagery was probably not produced with CGI - that the image was recorded with a camera. However, they disagreed as to the origin of the image that entered the camera lens.
Fred Raimondi from Digital Domain stated that "it's the most compelling footage I've seen," while Ray Giarratana opined that he thought it was a "really good hoax...it looks like it's being suspended from something above, like a helicopter."
References