A.D. After Disclosure: When the Government Finally Reveals the Truth About Alien
Contact
By Richard Dolan & Bryce Zabel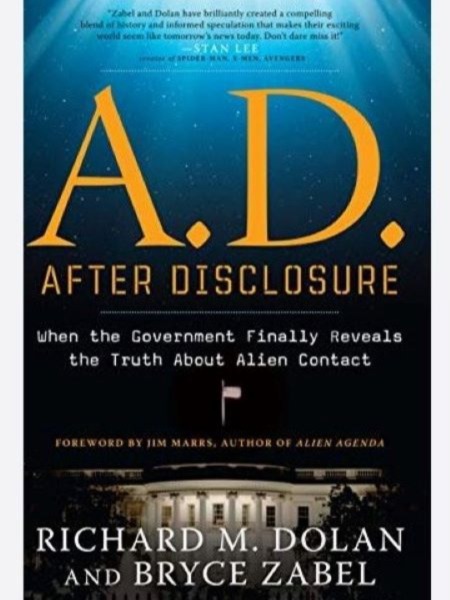 Explored the possible consequences of the disclosure of extraterrestrial presence on Earth, based on real-life events and research.
"A.D. After Disclosure: When the Government Finally Reveals the Truth About Alien Contact" by Richard Dolan and Bryce Zabel was a speculative book that explored the possible consequences of government disclosure of extraterrestrial presence on Earth. Dolan and Zabel suggested that such a revelation would lead to a paradigm shift in society, with profound changes in politics, religion, and culture.
The book began with a historical review of UFO sightings and alleged of a multiple decade government cover-up. The authors then explored the possible scenarios that could arise after disclosure. They suggested that some people would panic and be unable to cope with the idea of aliens among us, while others would welcome the new reality and embrace the changes that come with it. They also discussed the potential impact on religious beliefs, scientific advancements, and geopolitical power dynamics.
The book concluded with a call for greater transparency from governments and a more open dialogue about the possibility of extraterrestrial life. The authors argued that such discussions are crucial for preparing society for the potential consequences of disclosure.