Transportation Report, Chicago Tribune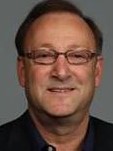 Hilkevitch's January 1st story about the O'Hare UFO sighting received over 1,000,000 hits and broke single page traffic records on the Chicago Tribune website.
Jon Hilkevitch is a Pulitzer Prize winning journalist. He was formerly a transportation reporter for the Chicago Tribune before joining as an adjunct faculty member with DePaul University.

Hilkevitch wrote an initial report for the Chicago Tribute covering the O'Hare UFO sightings and interviewed witnesses.