January 1981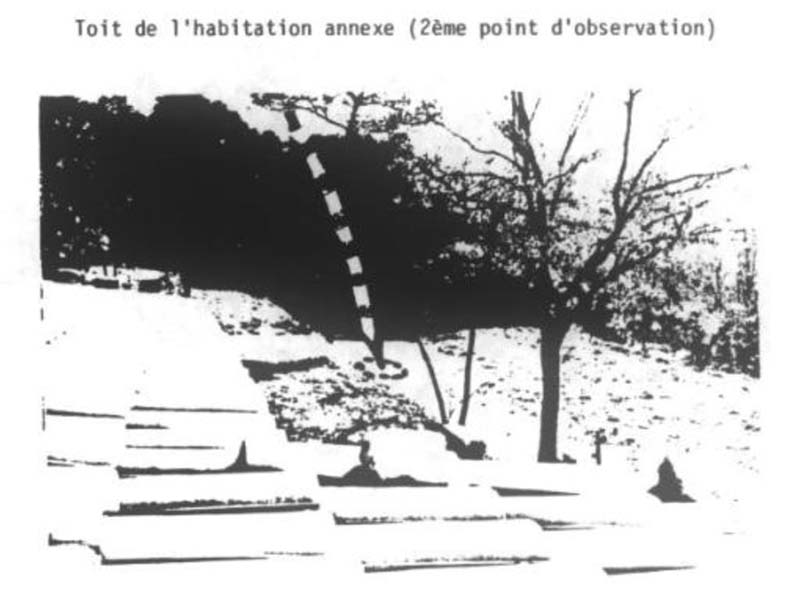 Renato Nicolai, a French farmer living in the small region of Trans-en-Provence, claims to have witnessed a small unidentified flying object land on a patch of ground near his house. This case is different than many UFO cases in that there was reported to be physical evidence of the landing, in the form of marks and other environmental disturbances.
On January 8, 1981, at about 5 PM, Nicolai, claimed to have heard a noise - a faint whistling as he described it - and he turned around saw an object flying in the air. He watched the object descend and briefly rest on the ground, and then suddenly rise and move away toward the forest of Trans.
He claimed that it "kicked off a little dust" when it left the ground and was 3 m away in a very short interval of time. He described it as being saucer-shaped, with four openings on the underside, with "traces like abrasions" along the circumference, and a ridge around this edge. The underside also had some other forms that he described as "reactors or feet," and two other circles that "looked like trapdoors."]
After the object flew away, Nicolai examined the spot that it landed and claimed to observe a circle, or imprint, about 2m in diameter.
This case is interesting because the local gendarmerie investigated the site shortly after, and forwarded the case to GEIPAN, the French governmental agency responsible for investigating UFO claims.
GEIPAN wrote an extensive analysis of the case, and concluded that the ground in the area where the object was claimed to have landed was compressed by a pressure of about 4 to 5 tons and heated to a temperature of 300 to 600 degrees Celsius. They also noted that trace amounts of zinc and phosphate were discovered in the collected soil, and that samples of alfalfa near the site showed reduced levels of chlorophyll (30-50% below what would be normal). The study also asserted that Renato Nicolai did not seem to be misleading or lying to the investigators.
The GEIPAN study ultimately did not come to firm conclusions as to the nature of the UFO. Skeptics have poked holes in the investigations by both the gendarmerie and GEIPAN, focusing on the trace samples taken from the landing area, and the purported shape of the imprints on the ground.
Interestingly, seven years later, on November 19, 1988, Dr. Jacques Vallée and Dr. Michel Bounias visited the Trans-en-Provence site, met with Renato Nicolai, and wrote up an analysis of their visit and conclusions that supported the earlier GEIPAN investigation into the physical evidence and veracity of the eyewitness Nicolai.
References