Retired Police Constable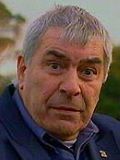 Police officer that followed a UFO while driving in rural Devon, UK in 1967.
"Thirty-seven years on, and the sighting is still vivid in Roger's memory: "We were making our way back between Holsworthy and Hatherleigh when we saw this unusual bright white light in the sky. "We both registered that we'd seen something. It was something we couldn't logically account for. "It was something that I hadn't seen before; I haven't seen since; and something that nobody can explain exactly what it was." The two officers 'followed' the UFO before returning to the station."