Lifelong Fiorentina fan, Witness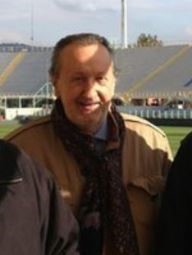 A spectator at an Italian football game where over 10,000 fans witnessed unusual objects.
Boni was an avid Fiorentina football fan who was at the Stadio Artemio Franchi on the date of the Florence Italy 1954 Sightings. When interviewed in his eighties, Boni still clearly remembers watching with incredulity as the UFOs stayed suspended above the stadium.

"I remember clearly seeing this incredible sight. They were moving very fast and then they just stopped. It all lasted a couple of minutes. I would like to describe them as being like Cuban cigars. They just reminded me of Cuban cigars, in the way they looked. I think they were extra-terrestrial. That's what I believe, and there's no other explanation I can give myself."